Moms who are DIY enthusiasts know how fun and rewarding it can be to decorate a nursery during the months you wait to meet your little one. Even if baby doesn't appreciate your hard work at first, you'll spend many hours (and long nights) in that space, so you want it to shine. This custom color dresser from Target's blog is a fantastic way to incorporate color and pattern into the room design.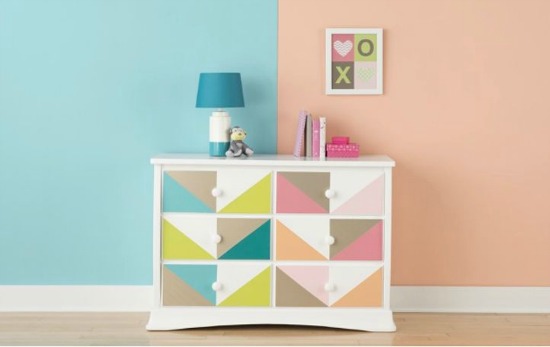 Making the choice to add some painted accents to your nursery furniture is a smart way to give standard store-bought pieces a custom look. Whether you go bold or choose a more serene color palette, this piece is one that can easily transition into a big kid space.  Armed with painter's tape and paint colors to complement your design, you can be as creative as you want. To see a video and photo tutorial for this custom color dresser, visit the Target Bullseye View blog.
You can find this piece and more in our Furniture gallery.