Maybe it's our current obsession with all things rustic, but when we saw this DIY Barn Door Headboard, we just couldn't help ourselves. Must discuss. Inviting? Check. Attractive? Check. This is what we call a statement piece. Walk into a room bearing this bedroom beauty and suddenly you're thinking, "Why yes I could nap here, I'm suddenly fatigued."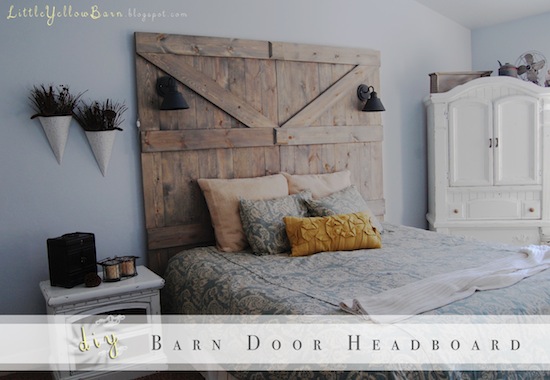 We just love this project for its sheer serenity, and in the end, we could all use a little more of that. For under $200, according to Ashley at Little Yellow Barn, you can pull this off in about 8 hours. Hit up your local hardware store for supplies, and be not overwhelmed! The tutorial is easy to understand and can be done by anyone with a miter saw and a screw gun. Okay and a few other tools.
Think of how lovely this DIY Barn Door Headboard can look in your bedroom! We'll be filing this in the Home Decorating archive for your future plans.