To paint or not to paint? That is the question. With the popularity of chalk and milk paints at an all time high, the urge to recover a dated sideboard in cool creams or splashy color can be all too tempting. However, if your find yourself the owner of an architecturally interesting buffet like this one, a more traditional rebirth might just be the better call. In that case, these tips on How to Recoat Furniture by Chelsea at Two Twenty One will help your piece go from grubby to glamorous.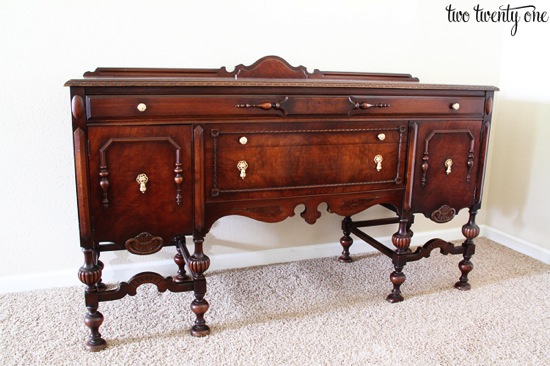 Proper safety precautions are essential when working with products like TSP Substitute to remove buildup. Arguments can be made on both sides as to whether to keep or remove patina. As an antiques appraiser by day, this author will argue that most pieces won't suffer significant value change if the piece isn't highly valued to begin with.
Find this tutorial on How to Recoat Furniture in our Furniture Makeover gallery.