Ever notice how your kids will wear their Halloween costumes for weeks months after the holiday? It seems that nothing spurs a child's imagination like a good wearable prop. That's why we're all over this Superhero Cape with Chest Plate.  Because whether it's a princess, kitty cat or firemen's uniform, suddenly our little ones are in a world of their own, convinced of their ability to save the world. So in the interest of advancing Earth's peace, here's a How To by Ashley at Make It and Love It. Let's leap tall buildings, friends!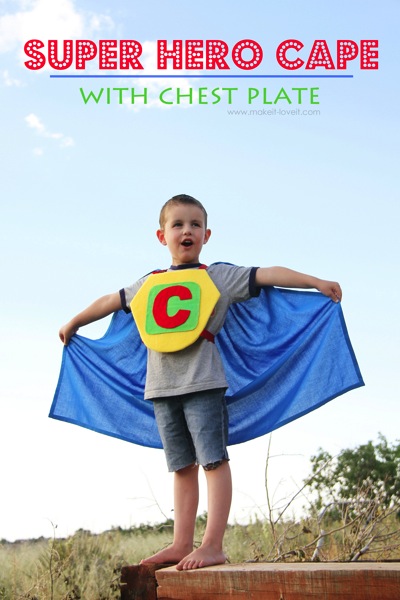 You can get your cape on faster than a speeding bullet with these super tools:
1 yard of cape fabric
1/4 yard fleece
scraps of felt
velcro
2 plastic canvas pieces (12 x 12 inches or bigger)
1 inch wide ribbon (at least 2.5 yards)
shield
glue gun/sticks
sewing machine
This is a very inexpensive project ($10-15) that will bring hours of joy to any caped crusader. Ashley gives further direction over at Make It and Love It. Your superhero can customize to his heart's content. The sky's the limit with a Superhero Cape with Chest Plate. Look for this project in the Baby & Kids gallery. Great Job, Ashley!