Beautiful design doesn't have to break the bank. Thumbing through our favorite design catalogs or surfing the online retailers can give us pause when we see the price tags. As we'll see in today's feature, Emily A. Clark shares how she transformed a $100 IKEA chest into a Layla Grace lookalike but at considerable savings. Take a look at this White & Gold IKEA Nightstand Makeover!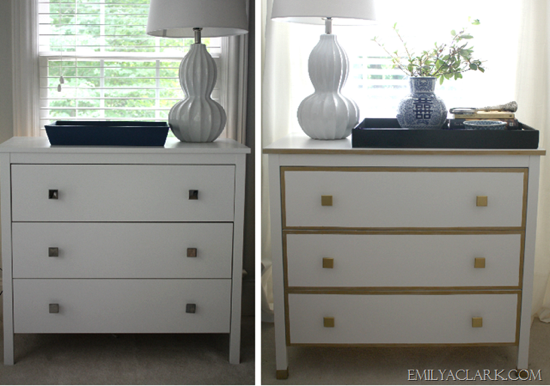 Emily saved money by working with a piece she already owned. With painter's tape and a measuring tape, she applied Rub 'n Buff to achieve the luxurious looking trim. A little spray paint finished off the pulls, and voila, a stunning dresser to complement her bedroom's contemporary design.
We just love this White & Gold IKEA Nightstand Makeover, don't you? Look for it in our IKEA Hack and Furniture Makeover galleries.