With Back to School ads looming over our heads, it seems that the warmth and sunshine may be leaving us sooner than we'd like. No need to fear, however, because with these cute little Dip Dyed Shoes, you can keep the season going, if only in spirit, for a little while longer. Put these on and at least your toesies can express some happy sunshine to brighten any day.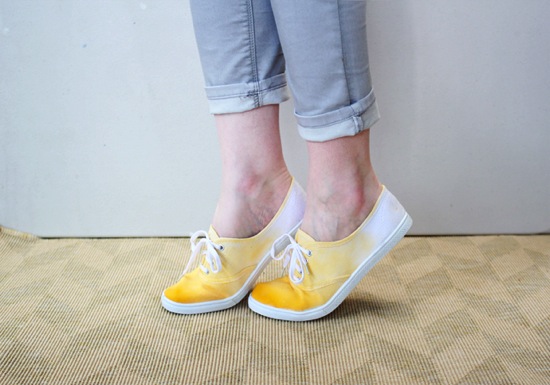 We love the sunny yellow shoes pictured here, but you can pick any color that will make you happy. Keds are a great shoe for dying and they are relatively inexpensive. Add the cost of dye and your in for less than $25. For that price, why not do two pairs? Our thanks to Danielle at Frankie Magazine for keeping summer alive with her Dip Dyed Shoes. Check out her tutorial to see how easily it's done.
We'll keep this in our Clothing & Accessories gallery.